Templates and Automation for Quarterly Business Reviews (QBRs)
Engaging with your customers in periodic Business Reviews is critical to the success of your SaaS business. Every single Customer Success manager that I know wishes they had the resources to provide a Quarterly Business Review (QBR) for each of their clients.
What is a QBR?
A QBR meeting focuses on ensuring that customers receive value consistent with their expectations from when they purchased your product. A successful QBR is an opportunity for the CS team to communicate meaningfully with the customer and align on customer goals, account health, usage, product roadmap, and opportunities for account expansion. You can find some great QBR guidance and templates online.
"I would love to offer a QBR to every single client, but my team simply does not have the bandwidth." - Henry G., Director of Customer Success
So why don't we do more QBRs?
Because a QBR covers so much ground, it can be very time consuming to put together a thorough presentation for each client. One Enterprise CSM I interviewed estimated that it takes her 8 hours to complete a QBR deck. This is why her organization only does QBRs for the top 10% of customers.
A strong QBR relies on having the data and KPIs to measure whether the customer is meeting their goals. Pulling together the right data can take time. Even though many of the relevant customer KPIs may be available in Gainsight or other CS management platforms, CS leaders have difficulty exporting data in the formats they need. Many CSMs end up taking screenshots of the Gainsight dashboard and manually copying metrics into the QBR presentation. This is a slow and often error-prone task.
Automation can help
Technology can help streamline the creation of QBR decks, ensuring standardized branding, colors, format, and data content for all of your customers. Once the presentation file has been generated, the CSM can focus on the key insights, initiatives, and opportunities for their customer.
Here's how to get started:
Identify the KPIs and metrics that will be presented in the QBR. You may include charts and figures to illustrate trends over time. Export the data for all clients to a spreadsheet (Google Sheets or Excel) and link to Slideform as a Data Source. Slideform also integrates directly with Gainsight, Salesforce, Azure and other data stores.

Create a standard template for the QBR deck with placeholder fields for the customer name, logo, goals, and KPIs and enter it to Slideform. Placeholders can be created for data fields, text, images, data tables, and charts.

Set up lookups to pull the correct data into each placeholder in the deck.
Here's an example of one slide in my QBR deck. Notice that all the placeholders (shown in green) are filled in by the appropriate data from the spreadsheet.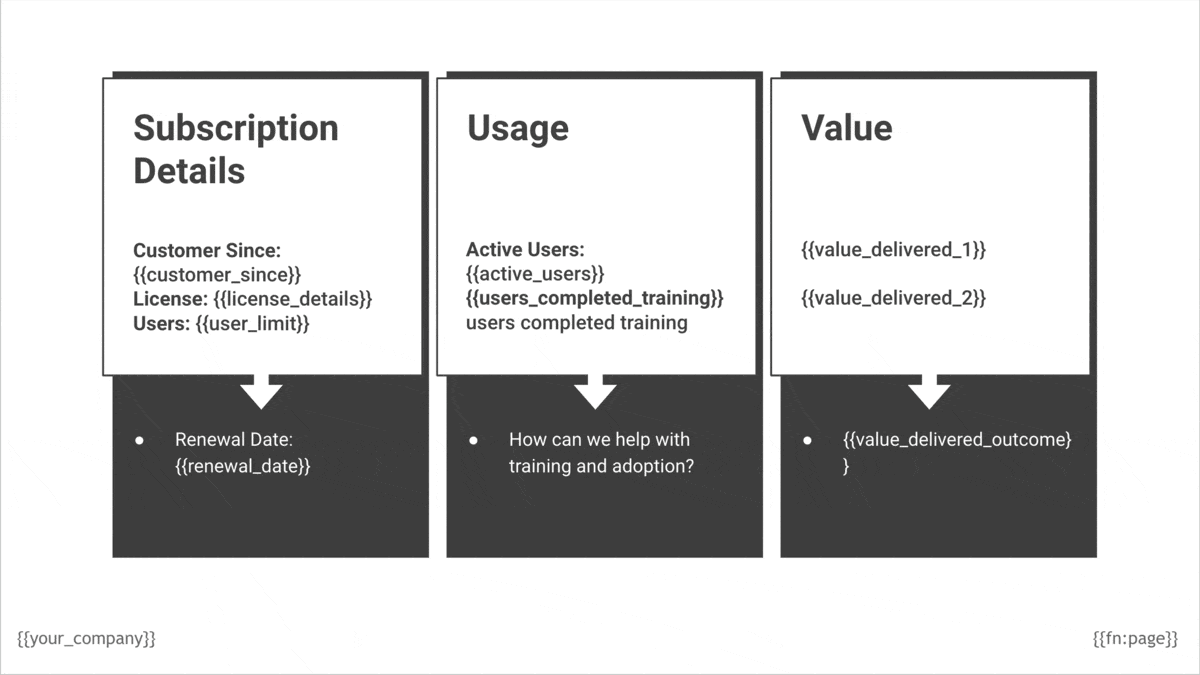 Example QBR deck template with Slideform automation
Now you can deliver a polished QBR deck to every customer
Each quarter, or whenever the CSM determines the need for a client check-in, Slideform can generate an up-to-date and complete deck for any customer. The CSM selects the client and answers a few questions and then Slideform fetches the latest data from Google Drive, and assembles the deck. The CSM can then review and edit the deck, adding key takeaways and insights for the quarter.
Now, instead of spending a full day copying and formatting the deck, the CSMs can have a QBR deck ready to go in less than an hour. Now the CSMs can focus their effort on the customer, identifying their needs, and digging deeper into creating lasting value for their customers.