How to get data from a dashboard into a presentation
Today I want to address a question that was raised by a client.
"How can I embed information from my Power BI dashboard into Google Slides without copying and pasting it every single time?"
This is a common pain point for many of my friends and colleagues. Lots of companies, like e-commerce and marketing agencies, have relatively sophisticated data needs and they have implemented dashboards for internal use. But they still rely on presentations (Google Slides or PPT) for external-facing reports because slide decks are easy to use and share, and can be saved for future reference.
So, in order to construct a slide deck, the account managers end up manually copying and pasting screen
shots from the dashboards into Google Slides. Tableau and Power BI do have some export capabilities, but these outputs rarely look the same as they do in the dashboard, leading to frustration and endless fiddling with the formatting. For some of my friends in the marketing agency world, they may re-use the same basic slides and just need make a new version each month with updated metrics. What a chore!!
Instead of copying and pasting, let Slideform build the presentation for you
Slideform is a software tool designed to take the pain out of constructing presentations. Slideform can automatically create and update your presentations with content from multiple sources, including dashboards (Tableau, Looker, PowerBI), spreadsheets, images, and more.
For example, Slideform can import data and visuals directly from Power BI to your slides. Slideform uses automation to map your dashboard to a slide deck template, allowing you to make a new presentation, with updated and accurate data, in just a single click.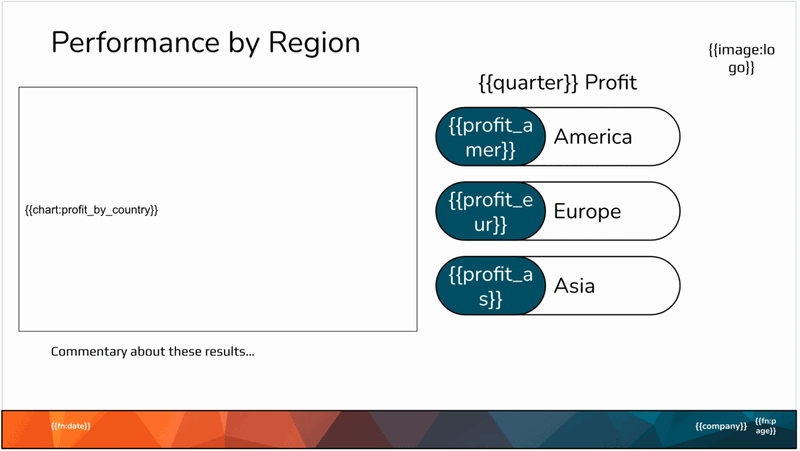 How to embed data from a dashboard into a presentation
There are four simple steps to automate your presentations with Slideform.
Create a slide template -- Use your existing slide deck, with company colors, branding, and styling, or create a new one. Identify any images, data, or text that need to be filled in from your dashboard or other data source. The Slideform onboarding team will help you set up your template. Save the template in Google Slides or Powerpoint format and upload it to Slideform.

Link your data sources -- Enter the URL to one or more Power BI or Tableau dashboards, Google Sheets, or other data sources. You can also upload an Excel file or share a Google Drive with your image library.

Map the data to the template -- The Slideform team will set everything up for you so that the fields in your template are mapped to the correct data sources.

Generate a new presentation -- Use the simple Slideform interface to specify any options, such as the customer name or the reporting period, and Slideform will fill in the slide deck for you. The slides always follow your template format, colors, and branding guidelines, and have built-in QA checks. You can download the slides in Powerpoint or Google Slides for review and further editing, if desired.
Slideform bridges the gap from dashboard to presentation