Export Power BI Visuals to PowerPoint or Google Slides
Microsoft's Power BI is a popular solution for business analytics visualizations and dashboards. If your organization has invested in creating great-looking and informative dashboards in Power BI, you probably want to use them as the source of truth for reporting. However, many clients and executives prefer to receive static reports, such as in PowerPoint, as opposed to viewing a dashboard.
Slide decks are a great option for reporting
A Powerpoint or Google Slides deck can be customized to each client or exec so they see only the data that is most relevant to them.
A slide deck does not change over time, so they can always refer back to it.
Presentation format is easy to step through during a meeting.
You can add comments and recommendations that are relevant to the specific data in the slides.
The slide deck can be styled according to the client's branding guidelines or your corporate style guide.
You can email the presentation directly to the recipients.
So, how can you insert Power BI data and visuals into PowerPoint?
There are few solutions available to link Power BI to PowerPoint.
Power BI does have the option to export a dashboard to a PowerPoint file. However, the visuals are exported in a non-editable format and on a blank PowerPoint template. This is useful as an archive or snapshot of your entire dashboard, but I wouldn't send this raw dashboard dump to a client.
Power BI has a new capability to

embed a dashboard page or element into PowerPoint

. To do this you will need to copy over the URL of each page or element you want in your presentation. The data are live in the presentation, but recipients without a Power BI license will only have a static view. You will have to make a new version of the slide deck to update the data for them.
The option that most of us end up using is simple copy and paste from Power BI to PowerPoint. This puts a static image of the visual into your presentation. The limitation is that you have to copy every single data element and chart, and if the data changes you will have to copy them over again.
Use Slideform or other software tools to import your Power BI data and visuals directly to your PowerPoint report. Slideform uses automation to map your Power BI data to a PowerPoint slide template, allowing you to make a new presentation, with updated and accurate data, in just a single click.
What about Google Slides? Can I embed and update Power BI visuals in a Google Slides presentation?
Power BI does not support export to Google Slides format, so until now, your best option was to copy and paste. Fortunately, Slideform fully supports Google Slides format. You can create a report template in Google Slides, upload it to Slideform, and link it to your Power BI dashboard to be automatically updated each month, quarter, or for each of your various client accounts.
"Slideform bridges the gap between dashboards and slide decks"
How to import data from Power BI into a presentation with Slideform
Slideform can automate your reporting tasks by automatically generating your slide deck report from a dashboard, spreadsheet, database, or other data source.
As an example, let's take a look at the Sales Analysis dashboard (

kudos to Tahreem Ansari for creating this example

) in Power BI. The Regional Performance page is shown below.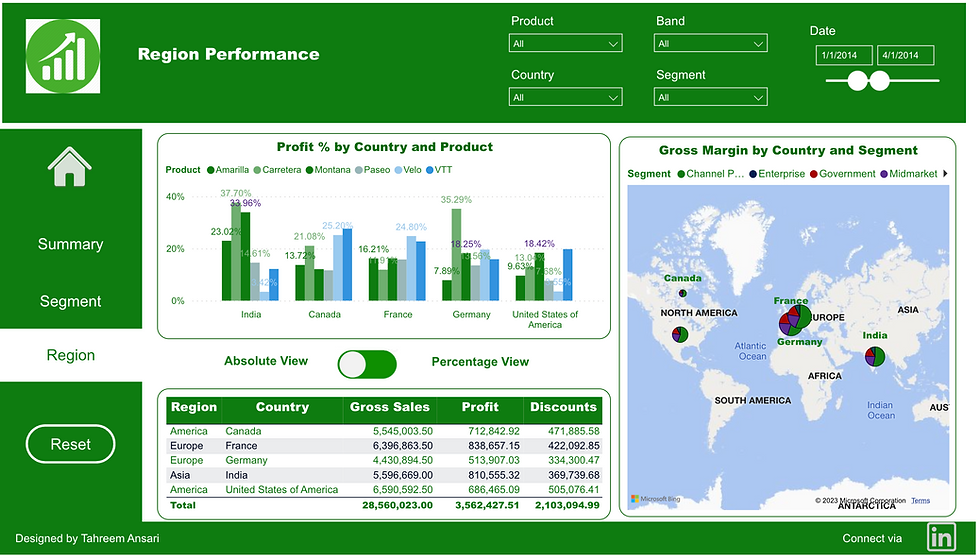 Using Slideform, I can embed the bar chart (Profit % by Country and Product) into my report deck. I also import the profit numbers for each region into the slide deck. The results look like below, where each of the yellow highlighted placeholders are replaced by values from the Power BI dashboard.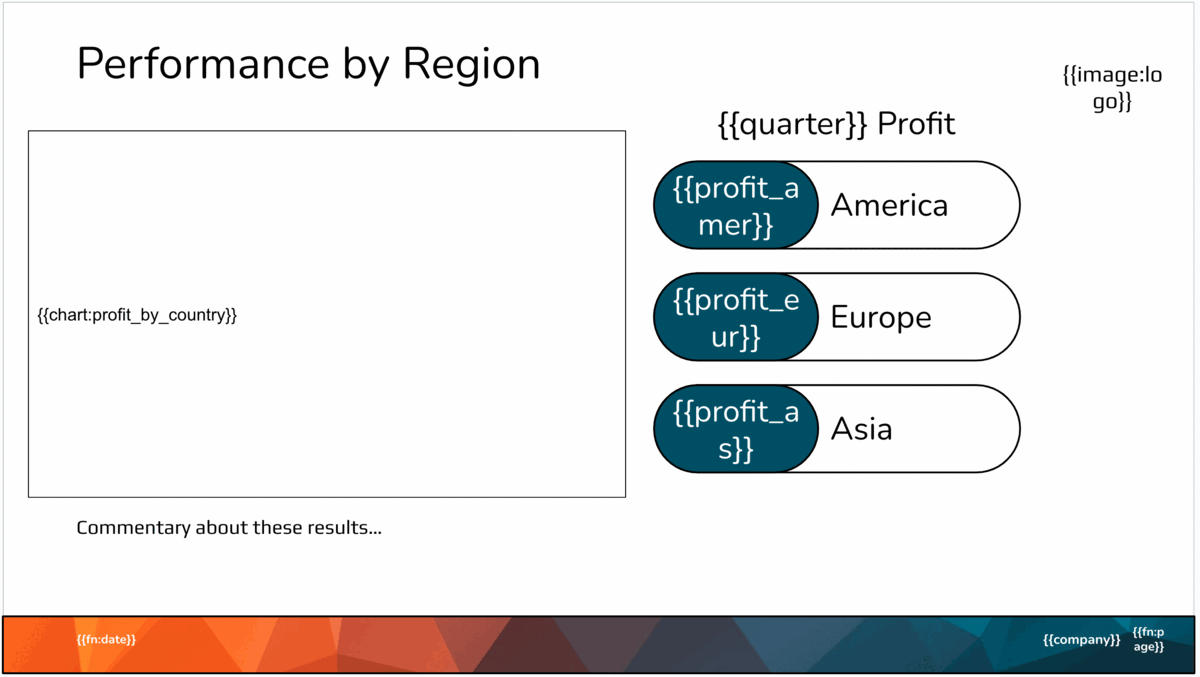 Benefits of Slide Automation
Do your execs and clients want their report in a slide deck? With Slideform automation, your team can use your internal Power BI dashboard and also send out reports in the format the recipients prefer. No more copy-pasting!
Your team can generate an up-to-date report deck each quarter or month quickly in Slideform. The slides always follow your template format, colors and branding guidelines, and have built-in QA checks. Download the deck in Powerpoint, Google Slides, or pdf format, and the final slides can be edited to add key takeaways and insights.